Equestrian Facilities Going Up
By: Pam Gleason, Photography by: Gary Knoll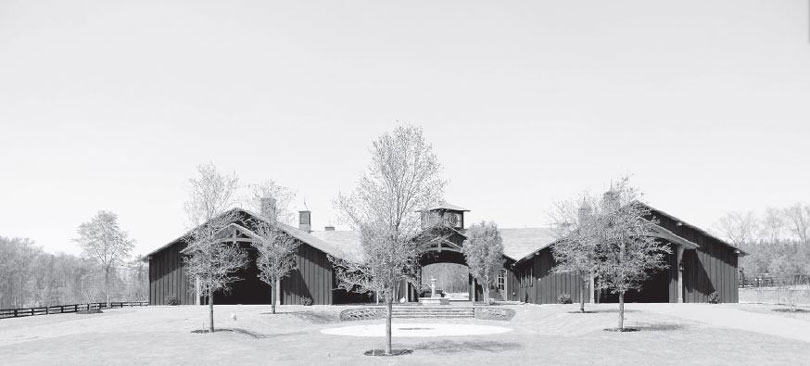 Aiken's builders, at least those that cater to the equestrian sector, are in agreement: demand for their services is rising. The real estate market is heating up, people are buying homes and land, and many people who have had real estate for a long time are ready to start building. Aiken's market is following national trends: According to the National Association of Home Builders, the number of building permits issued nationwide is up 25% this year over last year. The South Atlantic region is slightly ahead of the national average, counting 33% more building permits in 2013 than at this time in 2012.
How busy are Aiken's builders? Some of them are very busy indeed. Donnie Shaffer of Donnie Shaffer Homes says he has sold three equestrian "spec" homes since January, has five equestrian homes under construction and is getting ready to begin work on six more homes in equestrian subdivisions. JD Cooper of Cooper Home and Stable says that demand, which had tapered off a little in 2012, has come roaring back this year. Grant Larlee of Larlee Construction says he is working on new homes and barns as well as historic renovations. The recent trend has been to build smaller structures, especially when you are talking about houses, and builders agree that the people who want to build in Aiken tend to be educated consumers who are seeking quality work and attention to craftsmanship.
"Our clients really appreciate the details," says Todd Gaul of Designer Builders. "The people we deal with acknowledge the difference in quality, and that is what they are looking for when they hire a builder."
Do Your Homework
How do you choose the right team to make your Aiken home or barn a reality? Builders agree that is starts with doing your homework. Your relationship with a builder is very important, and you need to find someone you can talk to, and who understands what you want. Even more important, you need to find builder who will actually do what he says he is going to do, and who has a solid reputation in the community.
"Do good research on who you are dealing with and find out what their qualifications are," says Todd Gaul. "Look into their financial stability and their experience - what have they done, how much have they done. Talk to existing owners and people they have dealt with in the past. Ask for references and check on them. You don't have to just rely on the references the builder gives you to find out who they have worked for. Ask around, and listen to what people tell you. If you hear something bad, don't second-guess it. Things have a tendency to be consistent."
JD Cooper agrees.
"There is a good quality here in Aiken County," he says. "We have good contractors, good subcontractors. Anybody that moves into this area should have a good experience with regards to building."
Builders who do good work should be eager to show it off, and their clients should be happy to recommend them.
"I don't have a single client out there that I wouldn't want you to talk to," says Grant Larlee. "I couldn't sleep at night if that wasn't the case."
Kenny Taylor, who owns and runs Taylor Made Barns, tells a similar story: "Every client that I have had has always told me that I can show their barn at any time, whether they are there or not, and whether I call ahead or not. That's important to me."
Doing your homework also means making sure that the builder you select knows how to construct the type of project you have in mind. Some home builders in Aiken are horsemen, or have worked in the equestrian industry enough that they understand how to build barns. Some home builders are not really familiar with barns, and might not know how to make things safe for horses. If you choose a builder for your home, and he offers to build your stable as well, be sure that he knows what he is doing.
"You might show your builder plans for a 12 X 12 stall," says Grant, whose father was a harness horse trainer and who grew up in the horse business. "You mean a stall that is 12 X 12 when it is finished. If you give that plan to builder who doesn't know horses, he might frame the stall out at 12 X 12, so that when it is finished it's a lot smaller."
Kenny Taylor says that he has been called in to fix problems in barns, but builders who don't know horses have a tendency not to finish out their edges," says Kenny. "I like to round out the edges so that there isn't a sharp edge on a post. The way they run their wiring might be different than what I would do - they might have it more exposed, and horses can get at it - they may not understand the reach of a horse. Finally, I've had owners that I have talked to who had their barns built by homebuilders, and sometimes the crews don't understand about nails and screws, and that they don't mix with horses. I've talked to two owners that have had nails go into their horse's hooves and the horses have gotten abscesses, all because the crews were not careful enough."
There are builders in Aiken who are ready and able to construct the home or barn of your dreams, but every builder in the city is not in that category, so doing your homework is crucial.
"You hear it, I hear it sometimes," says Todd Gaul. "People are upset with their builder. You have the opportunity to do your research, and the time to do it is before you sign a contract."
JD Cooper is too polite to discuss problem builders. He just laughs.
"You don't have to go there," he says. "People do sometimes, but you don't have to."
Design-Build, or Design and Build
Once you have decided what you want to build, there are generally two different ways to appraoch the home or barn building process. One way is to consult an architect, a farm planner or a designer first. Choosing this option, you would come up with your plans, which would be complete, or almost complete, and then take those plans to builders to have them bid on the job. The second way is to choose a builder first, and work with the builder on your plans and farm design.
Which way is best? That depends on whether you talk to a designer or a builder. Most of the more established equestrian builders are also designers, or have design consultants and draftsman who are quite capable of working with you to make whatever you desire. Most builders, even those that are accustomed to making the designs themselves are also open to working with plans that are already drawn up.
Karl Splan, a designer who owns and operates Aiken Residential Design, says that hiring a designer first is the right way to go, and is the best way to ensure that you get what you want in the most cost effective way. He recommends drawing up plans with your designer and then submitting them to three builders for bids.
"In commercial construction, architects design buildings," he says. "An invitation to bid is issued to select construction firms. Then the owners, with assistance from the architects, review the bids submitted and choose the contractor ... this system has proven itself to be the best alternative for commercial owners and it is also the best method of choosing a contractor for residential construction. It gives the owner the greatest leverage during the transition from design to construction."
Karl further argues that designers are selling a service, while builders are selling a product. "This creates a differences in perspective that has a profound effect on the design. The contractor or local builder will likely create a design that emphasizes profitability, as opposed to the specific wants, needs and tastes of the owner. It's the natural inclination of most builders to suppress creative solutions to individual owner's requirements during the design process in the interest of doing things in the standard fashion in order to insure profitability."
Builders have a different take on the situation. "There is a bid advantage in having those early discussions about the design with the person that is going to see it through," says Todd Gaul. "I sit down with the owners personally, and we discuss everything, and I know why things are the way they are because I was there from the beginning. So often I'll get a set of plans that people have drawn already complete, and they will sit down with me and find out that what is on the paper isn't even close to their budget. If we do it together, we can start pricing out the home or the barn before the drawing is complete. That way you can mold the budget and the design at the same time. It's the beginning of a relationship - you get comfortable. Ultimately, the builder is responsible for the product, so you might as well be involved in it from the beginning."
Forging Relationships
Home and barn builders are not just building physical structures, they are also building relationships with you, the property owner. If you choose right, it will be a good relationship. Builders agree that, as in any good relationship. Builders agree that, as in any good relationship, communication is key. Builders of Aiken horse properties are often hard at work in Aiken while the home owner is back in New York, Pennsylvania or Massachusetts, which means that builders have to keep their owners up to speed via telephone or email. This also makes it extra important that the owner knows he or she can trust the builder.
Whether the owner is in town and checking on the project every day or not, a comfortable and friendly relationship is important for both the owner and the builder. Owners need to be confident that builders will listen to their concerns and will do their best to create the property that the owner envisions. Builders know that if they have a good relationship with the owner, they will have more business in the future, both from referrals and from future construction - the owner might need a guest apartment, or an addition to barn for instance.
The builders that we spoke to tend to go above and beyond to create good relationships, and those relationship often continue long after the project is complete. Because he does so much work for absentee owners, Grant Larlee says he often acts as a concierge service for his owners. He has several large storage buildings at his offices on Toolebeck Road, and he often uses them to keep furniture for his owners while he is doing removations, or even to store their cars, trucks and trailers when they are out of town. He might also make sure that those cars are filled with gas when the owner comes to town, or he might watch over the property during the summer months.
"Out motto is 'there's no such thing as can't,'" he says.
Builders today are looking forward to more good relationships. Those who work in the equestrian sector are getting busy, but they generally still have time to devote to new projects. They also agree that now is a good time to start one.
"Prices for materials are still low," says JD Cooper. "Lumber spiked up the beginning of the year, but those prices have been coming back down. Everybody has seen an uptick in building - most of my work has been from outside of town, but you're starting to see a return of activity in the subdivisions now, too."
Trends in construction generally follow trends in real estate: when land and homes start moving, builders and renovators are in demand. The previously sluggish Aiken real estate market in reviving, which means a building boom might be in the offing. Building materials are likely to get more expensive in the near future, and the desirable builders will have long waiting lists. If you have been biding your time to get into the building market until you felt the time was right, your wait is over. That time is now.
This article is copyrighted and first appeared in
The Aiken Horse
. It is reprinted here by permission.